Evelina Shares Her Story In An Interview with Dream in Soul
Evelina shared her story of overcoming life threatening diseases to boldly pursue her purpose with the webzine DreaminSoul.com. Click here to read the inspiring interview.
Overcoming the Odds
It's not everyday you get to know a living miracle, someone who has overcome great odds and the clutches of the valley of death, and yet who shines even in the darkest of situations. I am blessed to have met and to be inspired by someone who fits that description, my mentor and friend Evelina Solis.
A few years back Evelina was in the hospital clinging to life after being diagnosed with a pulmonary embolism (a near fatal blood-clot). After the long recovery process and when she thought the worst was over she was then diagnosed with lupus, another serious illness which left her in the hospital getting treatments for months, in the ICU for two weeks and even flat-lining at one point.
Contrast that near-death experience to the vibrant woman who is energetically living out her purpose as the founder of her motivational company Sol2Soul, a certified life coach, inspirational speaker and TV/radio personality. Instead of dwelling on her illness and what could have been, Evelina is living out her faith each day and holding on to God's truth.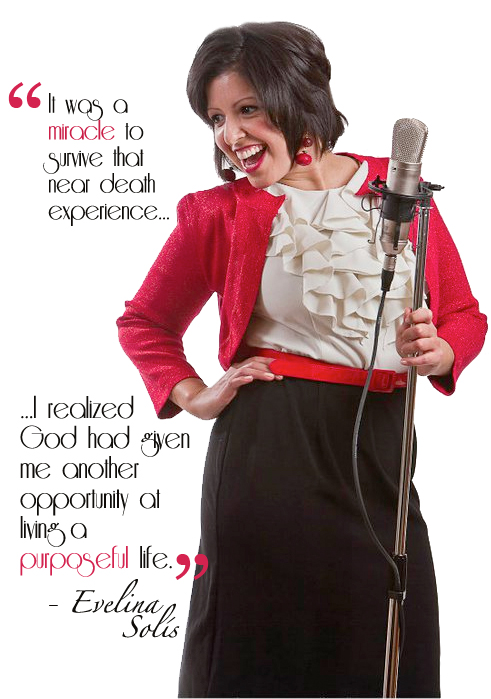 Evelina is traveling around the country telling her story of survival, and is supporting Dream in Soul Creative as a model and spokesperson, wearing T-Shirts from our collaborative clothing line when she speaks to students and other audiences. Recently she was on Macy's Hispanic Heritage Month tour, sharing her story across the country. She's also featured in the book Aim High: Extraordinary Stories of Hispanic and Latina Women by Laura Contreras-Rowe. She definitely lives out her motto of living life to the fullest, inspiring people to seek and follow their passion while leaving the world better then they found it.
I invite you to read Evelina's inspiring story and the advice she gives on living out her purpose in the dark and bright places of life.
– Julene Fleurmond, Founder & Editor, Dream in Soul


Living with Passion and Purpose
Dream in Soul: Hi Evelina, Can you introduce yourself to Dream in Soul?
Evelina Solis: Hello Dream In Soul readers, I'm Evelina Solis, Certified Life Coach, Inspirational Speaker and TV/Radio Personality. I love to come into a room full of people and change the atmosphere when the energy is low, peers are unmotivated, or the membership in your organization is down. My purpose is to generate new energy and enthusiasm that will result in increased participation in projects and activities, inspire others to work hard and increase the organization membership. I have a passion for serving and educating people from all walks of life, volunteering at Shoreline Church and charities, bringing awareness to Lupus, traveling the world, playing and watching sports, writing about my adventures, participating in the arts, and spending quality time with my family and friends.


Surrender
Evelina was featured in a DVD devotional series entitled "The Fight of Your Life" for Shoreline Community Center Church in Austin, TX. She was one of three people who told their story of survival and recovery of serious trials in their lives. Evelina recounted her journey of surviving several life threatening illnesses, and overcoming physical and emotional trauma through her faith in God and the support of her family. Watch a preview of the series below entitled "Surrender":
DS: Tell us about your journey with your health and where you are today?
ES: My journey with my health has been a roller coaster. Regardless of what my family saw or heard, we kept our faith in God and totally relied on Him for comfort, peace and healing. Back in 2006, I was at the prime of my health, or at least I thought, I was 26 years old working out 5 days a week, training for a marathon, and living the life in Miami, FL.
Then out of nowhere I woke up with a bruise on my left calf that ended up going from size of a dime to the size of a softball within a couple of weeks. After coming back from an awards ceremony at the University of Miami (my workplace), I had trouble climbing up the stairs to my office. I was out of breath and I was running a low grade fever. I ended up going to doctors a few times over the period of a month to find out what I had, but everyone seemed to think if I took some antibiotics that I would be ok. That same day I was rushed to the hospital by my roommate.
I was diagnosed with a pulmonary embolism (PE), a condition that occurs when an artery in your lung becomes blocked by a blood clot that traveled from your left calf into your lungs causing extreme difficulty breathing and severe chest pains. According to Mayo Clinic, PE is the third most common cause of death in the US, with at least 650,000 cases occurring annually. It is the first most common cause of unexpected death in most age groups. It was a miracle to survive that near death experience…